Spring 2014 Newsletter May 07, 2014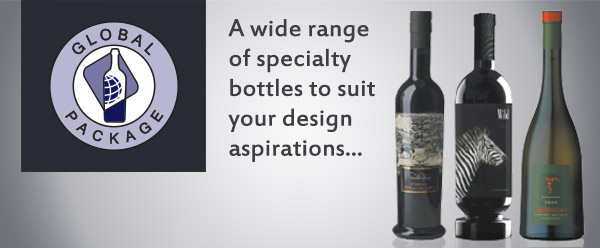 Spring 2014 Newsletter
April 2014
Global Changes
No, we're not talking about weather conditions or the fact that China has just taken the lead as the biggest consumer of red wine. We're talking about the exciting changes that are happening at Global Package!
First, we have a brand new website, one that gives you everything you ever wanted to know about the wide range of bottles we carry. From a slimmed-down, eco-friendly line of bottles (our Elegant Light Collection) and our beautifully crafted standard collection to our exquisite, one-of-a-kind masterworks, we have what you want at every price point you're looking for.
Second, we have seen an incredible increase in sales over the past few years. Despite the recession, we have been growing at a phenomenal rate and have staffed up to meet the demand. Our founder and leader, Erica Harrop, says she's also excited to see the industry respond to positive sales indicators, which is bringing demand for high quality, unique bottles that bestow higher-price brand exclusivity.
Last, but not least, the downturn of the last few years has taught us (as well as many of our clients) to be smart if we want to stay healthy. We have used the time wisely, developing new tools that will address the future demands of each individual customer. For instance, we've expanded our Northwest warehouse capacity, hired a new administration assistant to our support team, and added new sales staff who will provide immediate solutions for customers. Our logistics company also added a new highly experienced manager ...more about him in our next newsletter.
Brand Building
Since shoppers are able to process only two or three messages at a time, it's critical to distill your brand story to a few key points.
In a recent piece on TheDrinksReport.com, Derek Boltwood stressed the importance of point-of-sale packaging. And getting to know your customers is the first place to start. You can buy research to learn about their likes and dislikes or you can conduct your own just by listening. This will help you build a brand story that is meaningful, one that's unique, evocative, and concise. You can even test a few out to see which one resonates most. You also want to build a personal connection with your consumers, so get them involved. Invite them to help prune back vines in slower winter months, participate in a special crush event, or host a tasting room social. And throughout the year, use social media tools to keep them apprised of what's happening at your winery, in the field and in the cellar.
Millennial Opportunity
These customers want a relationship with a winery, not messages about awards or expert ratings.
To prove the importance of brand storytelling, research has shown that the younger generation doesn't much care about how many medals a wine has won. Instead, these consumers want to develop a relationship with a wine. Constellation Brands' Chris Fehrnstrom says, "They are adopting wine at a faster rate than any other generation. They are experimental …rebellious, they crave experiences." Rowan Gormley, CEO of Naked Wines, agrees: "Younger drinkers are picking wines based on the story behind it, how they found it, what unique blend or region it comes from." http://tinyurl.com/mcunguv
All of which presents those of us engaged in packaging with both challenges and opportunities. One challenge is that this generation won't spend a lot on a bottle of wine—$10-$12 is average; $20 bottle is max. Silicon Valley Bank's Rob McMillan cautions wineries to match marketing budgets with the capacity of the segment being targeted. "A twenty-something might have the willingness to buy that 2001 Silver Oak Cab, but do they have the capacity?" http://tinyurl.com/k3duu5n Good advice, but remember, these youngsters are likely to be the next generation of affluent wine buyers.
So if your brand is suited to these adventurers, make sure your packaging is eye-catching, tells a story, and is cost-effective. Our Elegant Light Collection is part of the solution. Check out these bottles on our new website www.globalpackage.net.
Like Beer Like Wine
Did you know your Malbec has the same dark fruit aromas and full-bodied mouthfeel as a Belgian Dubbel?
That's just one of the creative pairings on this fun infographic. Zach Mack, the NYC-based co-owner of Alphabet City Beer Co., and the wine information website VinePair matches beers with wines based on taste preferences. For instance, Pale Ale is mellow and inviting, much like a Merlot. And Imperial Stout has the same full mouthfeel and toasted oak flavors as a Cab, both go well with steak and potatoes. Check it out: http://tinyurl.com/mn3znfk
Europe's Shifting Wine Regions
Rising temperatures in Europe are affecting some of the prime wine-producing regions, which in turn is impacting the character and quality of the wine.
Research carried out by the University of Oregon and a report by Just-drinks.com's Ben Cooper found that "…while rising temperatures are creating stern challenges for some of the region's most established wine-producing areas, production is becoming possible in northern regions where hitherto viticulture was not commercially viable." Because there is a temperature threshold at which wine quality begins to decline, it may not be long before we start seeing some fine wines come out of Norway, Sweden, and Finland. http://tinyurl.com/menqv44
News & Notes
Glass remains the world's preferred packaging material for wine and spirits.
According to a recent piece in thedrinksreport.com, Asia Pacific is expected to lead in the future global demand for glass, and China is projected to account for the largest share of that demand. http://tinyurl.com/mdntys8 …According to the Journal of Wine Economics report, alcohol consumption in American States rises as the population's politics becomes more liberal http://tinyurl.com/m7v6tjq …QR codes on wine labels are a smart way to add information, according Alexandre Penet of Champagne fame. In addition to utilizing innovative design techniques for his labels, he employs a QR code that provides critical information for the discerning consumer, such as the limited edition bottle number, date and year of harvest, date of disgorgement, how many bottles were produced, terroir information, etc. http://tinyurl.com/l46m9p5 …California Vineyards had a bumper crop last year, thanks to expanded acreage and good weather, according to an article in the 2/16/14 New York Times. It remains to be seen what impact our drought conditions will have on this year's harvest. Let's hope the recent rains put us back on course.
About Global Package
With an astute understanding of the industry and the needs of clients, Global Package sources wine and spirits bottles and packaging worldwide.
Bottles
Elegant Light line
Premium, in stock
Ultra-premium
Custom molds
Competitively priced
Packaging
Pewter labels
Custom boxes
Spirits bar-top closures
Decorations
Silk-screening
Medallions
Design
We are at your service.


Erica Hiller Harrop
President
GLOBAL PACKAGE, LLC, Napa, CA.
2793 Napa Valley Corporate Drive, Napa California 94558 USA
707-224-5670 (phone) 707-294-7899 (mobile) 707-224-5683 (fax)
info@globalpackage.net globalpackage.net