Global Package Supplier, Estal Glass, Wins Packaging Oscar December 05, 2018


Global Package Supplier, Estal Glass, Wins Packaging Oscar

Continuing its long tradition of technological innovation, Global Package Supplier, Estal Glass, recently won the Oscar Del
Emballage for its Hot Rod bottle. The bottle interprets the classic flask silhouette and features Estal's innovative track-ring/sommelier system. It's the first industrial bottle specially designed for the spirits and distilleries market and that substitutes a conventional mouth ring with an anti-drip sommelier groove, or cut rail, which also facilitates cutting of the capsule.

Global Package's founder and CEO, Erica Harrop, explains: "The simple, clean neck silhouette invokes luxury while also preventing drips and maintaining conventional distillery bottling processes, including cork and capsule application. We first introduced the technology with Estal's Sommelier Mouth Bottles back in June 2018, and this success made an easy transition for Estal to extend the technology to spirits." With strong growth in the spirits market, Global Package will also be expanding to the East Coast with new facilities strategically based to service the local markets there.

Global Package will be showing Estal's new ring concept, which has been applied to wine bottles, at Booth 230 at the WIN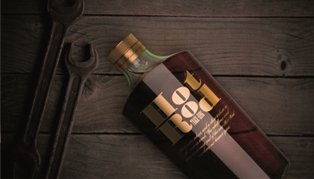 Expo Trade Show and Conference this Thursday at the Sonoma County Fairgrounds in Santa Rosa. The Sommelier wine bottles will be in stock in January. Harrop says: "We are breaking the glass ceiling of creativity once again!" Global Package's Napa showroom is open daily. Call 707-224-5670 for an appointment.

------------------------------------------------------------
Note: For decades Global Package has provided stock and custom bottles for the premium and ultra-premium markets, creating new opportunities for wineries to build existing and new brands with adherence to the highest quality standards. We have a wide selection of domestic bottles in stock, and we specialize in European bottles, with the ability to source higher-end bottles at very good pricing. Contact info@globalpackage.net or 707-224-5670. Global Package is located at 2793 Napa Valley Corporate Drive, Napa, CA 94558.