• Convenient Wine
• The Post-Recession Consumer
• Americans Heart Wine
• Your Brain on Wine
• News 'n Notes
C-Store Strategy
A February 2009 piece in Wine & Spirits Daily (http://bit.ly/2imp4r) reported that convenience stores (c-stores) are eyeing wine sales to boost profits, with domestic white wine showing the most impressive growth. Now, positioning itself as a c-store as well as a drugstore, Walgreens recently announced it will start selling wine in most of its 7,000 stores nationwide. According to an October 2009 article in Convenience Store News, in an effort to make the shopping experience more 'convenient' for shoppers, Walgreens is remodeling 400 of stores and plans to focus more on private-label goods and groceries in certain neighborhoods. The national rollout is slated to occur over the next 12 to 18 months. Click here for the article.
Price Equals Pleasure
I loved this study by researches at the California Institute of Technology and Stanford's business school, which proved that the pleasure of a wine is linked directly to its price. Using functional magnetic resonance imaging (FMRI), the researchers found that there's more activity in the pleasure center of the brain when subjects in the study drank wine they thought cost $90 a bottle than when they drank the same wine priced at $10 a bottle. In other words, people's perception of a wine is influenced more by price than by its intrinsic quality. So before you lower the price of that wine in storage, you might want to think again. The study suggests that "manipulating nonintrinsic attributes of goods" can affect experienced pleasantness. And, yes, that's what packaging is all about. For the synopsis of the study, click here.
Millennial Packaging
While U.S. consumers may be feeling the pinch in their pocketbooks, they still like their wine. According to the Beverage Information Group's (BIG) recently released 2009 Handbook, wine consumption continues to trend upward, with an increase of 0.9 percent in 2008. Although more frugal in their wine selection, consumers are choosing domestics over foreign brands, primarily due to the weak dollar. Of course, the continuing media coverage of the health benefits of wine don't hurt. Also of interest, the report suggests that the 70 million Millennials (age 21 to 30) in the U.S. are a respectable contributing factor to wine's growth. Targeting this market segment with packaging that isn't granddad's packaging would be smart, since these folks like to experiment and are drawn to unique packaging. Global Packaging has a broad array of decorative options, including silk-screening like we do for our spirits clients. Don't forget, too, that our Elegant Light line of light- weight bottles are distinctive in their own right. Call us if you'd like to see samples. Click here for the Reuter's summary of the BIG's findings.
Changed Behavior
The most recent Nielsen Global Consumer Confidence Index finds that many consumers around the world will return to their free-spending patterns, whereas many Americans say they will "find it hard to shake recessionary spending habits." Interestingly, the Chinese (and Russians) are most confident the recession is ending and are eager to start spending again, especially luxury goods. [Sidenote: A friend who hosts Chinese students in San Francisco said her student just purchased a brand new Bentley and Land Rover to ship to his family back in China.] China and Russia are expected to be the fastest growing markets for still light grape wine in absolute volume terms over the next five years, according to the Euromonitor International 2008 industry review (http://bit.ly/GLzeE), so the future looks bright for wine brands with those distribution channels. On the home front, more than 40 percent of Americans say they expect "to increase their spending on travel and holidays, dining out and out-of-home entertainment in the coming months," which should be welcome news for all of us. http://bit.ly/2KF9gI
News 'n Notes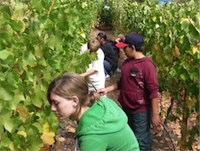 Jeff Quackenbush in last month's North Bay Business Journal notes the reverse trend toward lighter-weight wine bottles and more conservative designs in these harsh economic times, with "packaging to be designed to look more serious, sophisticated and of higher value." What a perfect pitch for Global Packaging! http://bit.ly/3kFUv2 … We're all for the alliance between Crushpad, Twitter, and Room to Read; they're calling it social winemaking, and according to Crushpad's prez Michael Brill, "it'll expose winemaking to many thousands of people (not just 5 or 10) who could not ordinarily afford it or be involved in it." … Harvest has wound down and although we are nervous about the grapes that didn't come in this year (a reflection of our economic times) there is hope that quality wines prevail. The rains didn't totally dampen our character and I expect that we have seen the worst of times in our rear view mirrors. Wineries have made necessary adjustments to cut out unnecessary costs through 2009 and smart suppliers were already laying new ground for products to fit their customers' needs. What has your supplier done for you lately? Find out what new product lines we have at Global Package and know you will be taken care of.